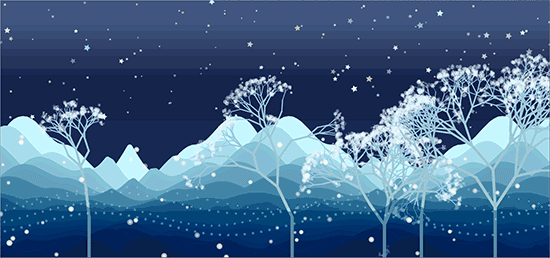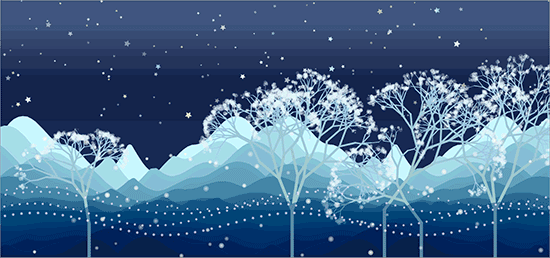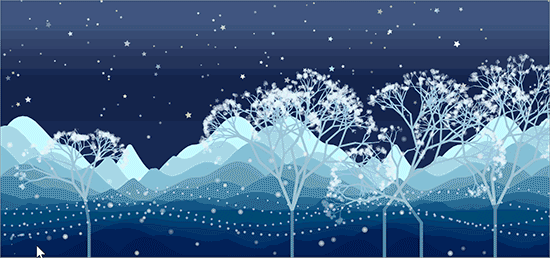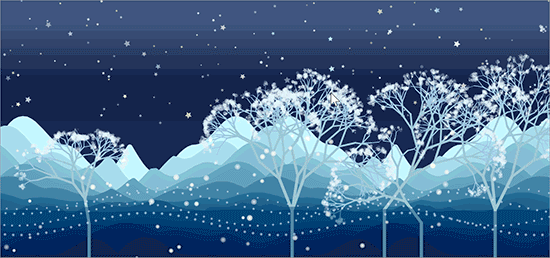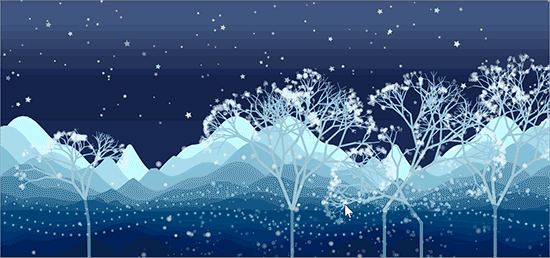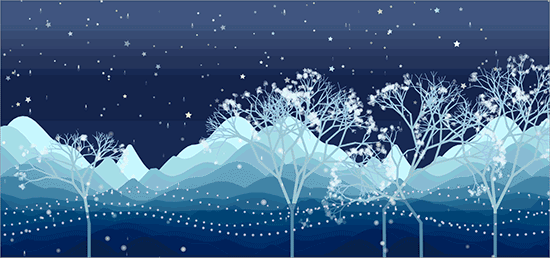 f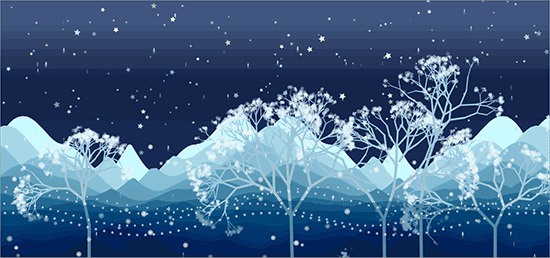 Staying loyal to my usual aesthetic and everlasting motivation of making a beautiful, virtual environment… I'd like to thank Golan for dealing with the general constant theme, but I hope some of my other projects were different and experimental enough as well (book, data viz, mocap, etc.) For starters, it was unfortunate that I didn't have the confidence to get started and learn OpenFrameworks within the timeframe of this project; it is definitely something I want to pick up and utilize in the future–especially since this project really hammered in to me what the limits of Processing were. For an interactive environment, Processing will undeniably start running super slowly because of all the assets involved; this actually limited what interactivity and aesthetics I wanted to include in this environment, and I had to prioritize what to keep without sacrificing a sense of completion in the overall product.
As such I aimed for something calm (my own bias) and serene… an environment that would provide subtle and endearing movement and interaction potential. I definitely focused on setting up the entire environment overall, much like a stage setting, rather than attempting to go for quantitative assets. I wanted a well-rendered and atmospherically polished environment rather than a more lackluster one with more features. Basically the whole setup was contingent on object-oriented programming, something I actually barely did throughout the semester for previous projects–but this was crucial here as every characteristic of the setting was its own object class: I worked with waves, landscapes, fireflies/particles, rain, stars, and branches and leaves (aggregated into trees), to carefully render each aspect in the right order to eventually stack together to become the final environment. I initially was inspired to include more air-related features through some beautiful OpenProcessing samples which I wanted to customize, but the utility of noise to render the smoke and clouds slowed down my entire program to the point that movement was hardly seen, so I had to abandon that. With the idealistic assets I had in mind and the further progress of how much code I'd typed with how increasingly sluggish my program was running, I had to make the decisions to output a workable and seamless product that still stayed aesthetic. I am incredibly happy with the resulting soft and subtle features, with the highlight movements from the stars, waves, and fireflies; and the interactions of the light particles following the user's cursor and the movement of vectors upon clicking trees to allow for branch swaying and leaves scattering and falling. It is definitely not a game, or an interactive interface with a goal per say, but the whole point was to imagine a user mindlessly enjoying the program, as if it were a virtual art piece.
In contrast to how I had to present it the final Friday of class, I really think the program benefits from an experience where the user is running it alone in a dark room, with headphones. That is how I believe the piece should be seen and felt, and funnily enough the dark room and headphones is exactly the environment that I mostly coded it in as I worked on it during many nights. With this setup I feel like the user would become more fully immersed in the cathartic and serene nature of Nocturne.
This project is definitely something I want to continue and further develop in my free time or if given the chance in the future. This would probably also assume that I will be developing and enhancing it in OpenFrameworks, because as of now I think I'm already hitting the max of what Processing will run and handle smoothly. As of now I intent to add interactions with new objects such as plant growth and animals, and perhaps some more precipitation and particle options.

/*
REFERENCES: 

https://www.openprocessing.org/sketch/179401
https://www.openprocessing.org/sketch/90192
https://processing.org/examples/sinewave.html
https://processing.org/examples/multipleparticlesystems.html
https://processing.org/examples/simpleparticlesystem.html
*/


import processing.sound.*;

int xspacing = 16;   // How far apart should each horizontal location be spaced
int w;              // Width of entire wave

float theta = 0.0;  // Start angle at 0
//float amplitude = 75.0;  // Height of wave --> moved as parameter
float period = 500.0;  // How many pixels before the wave repeats
float dx;  // Value for incrementing X, a function of period and xspacing
float[] yvalues;  // Using an array to store height values for the wave

SoundFile file;

int Y_AXIS = 1;
color c1, c2;

color cloudFill, fade, far, near, mist;

int rainNum = 80;
Rain[] drops = new Rain[rainNum];

ArrayList trees = new ArrayList();

void setup() {
  size(1500, 700);
  smooth();
  
  file = new SoundFile(this, "khiitest.wav");
  //file = new SoundFile(this, "khii.mp3"); // testing audio loop?? 
  file.loop();
  
  c1 = color(17, 24, 51);
  c2 = color(24, 55, 112);

  // some setups aborted
  fade = color(64, 85, 128);

  w = width+16;
  dx = (TWO_PI / period) * xspacing;
  yvalues = new float[w/xspacing];

  //for (int i = 0; i < particleCount; i++) {
  //  sparks[i] = new Particle(176, 203, 235);

  for (int i = 0; i < smallStarList.length; i++) {
    smallStarList[i] = new smallStar();
  }
  
  for (int i = 0; i < bigStarList.length; i++) {
    bigStarList[i] = new bigStar();
  }
  
  for (int i = 0; i < fireflyList.length; i++) {
    fireflyList[i] = new firefly();
  }
  
  trees.add(new Tree(600,0));
  trees.add(new Tree(-500,0));
  trees.add(new Tree(300,0));
  trees.add(new Tree(50,0));
  trees.add(new Tree(400,0));
  for (int i = 0; i < rainNum; i++) {
    drops[i] = new Rain();
  }
  
  ps = new ParticleSystem(new PVector(400,600)); // buffer default loc
}

smallStar[] smallStarList = new smallStar[110];
bigStar[] bigStarList = new bigStar[50];
firefly[] fireflyList = new firefly[70];
float gMove = map(.15,0,.3,0,30);
ParticleSystem ps;


void draw() {
  background(0);
  setGradient(0, 0, width, height, c1, c2, Y_AXIS);

  makeFade(fade);
  //clouds(cloudFill); //cloud reference from https://www.openprocessing.org/sketch/179401

  for (int i = 0; i < smallStarList.length; i++) {
    smallStarList[i].display();
  }
  
  for (int i = 0; i < bigStarList.length; i++) {
    bigStarList[i].display();
  }

  drawMountains();
  
  ps.addParticle();
  ps.run();
  for (Tree tree : trees) {
    tree.display(); 
  }
  
  anotherNoiseWave();

  calcWave(30.0);
  renderWave();
  
  for (int i = 0; i < fireflyList.length; i++) {
    fireflyList[i].update();
    fireflyList[i].display();
  }
  
  ps.setOrigin(new PVector(mouseX,mouseY)); 
  
  //if (raining) {  for temp rain no-respawn fix 
    for (int i = 0; i < rainNum; i++) {
      drops[i].update();
    }
  //}
}

void makeFade(color fade) {
  for (int i = 0; i < height/3; i++) {
    float a = map(i,0,height/3,360,0);
    strokeWeight(1);
    stroke(fade,a);
    line(0,i,width,i);
  }
}

class ParticleSystem {
  ArrayList particles;
  PVector origin;
  ParticleSystem(PVector location) {
    origin = location.copy();
    particles = new ArrayList();
  }
  
  void addParticle() {
    particles.add(new Particle(origin));
  }
  
  void setOrigin(PVector origin) {
    this.origin = origin; 
  }
  
  void run() { 
    for (int i = particles.size()-1; i >= 0; i--) {
      Particle p = particles.get(i);
      p.run();
      if (p.isDead()) {
        particles.remove(i);
      }
    }
  }
}

class Particle {
  PVector location;
  PVector velocity;
  PVector acceleration;
  float lifespan;

  Particle(PVector l) {
    acceleration = new PVector(0,0.05);
    velocity = new PVector(random(-1,1),random(-2,0));
    location = l.copy();
    lifespan = 255.0;
  }

  void run() {
    update();
    display();
  }

  // update location 
  void update() {
    velocity.add(acceleration);
    location.add(velocity);
    lifespan -= 10.0;
  }

  // display particles
  void display() {
    noStroke();
    //fill(216,226,237,lifespan-15);
    //ellipse(location.x,location.y,3,3);
    fill(237,240,255,lifespan);
    //ellipse(location.x,location.y,5,5);
    float w = random(3,9);
    ellipse(location.x,location.y,w,w);
  }
  
  // "irrelevant" particle
  boolean isDead() {
    if (lifespan < 0.0) {
      return true;
    } else {
      return false;
    }
  }
}

class Tree {
  ArrayList branches = new ArrayList();
  ArrayList leaves = new ArrayList();
  int maxLevel = 8;
  Tree(float x, float y) {
    float rootLength = random(80.0, 150.0);
    branches.add(new Branch(this,x+width/2, y+height, x+width/2, y+height-rootLength, 0, null));
    subDivide(branches.get(0));
  }
  
  void display() {
    for (int i = 0; i < branches.size(); i++) {
      Branch branch = branches.get(i);
      branch.move();
      branch.display();
    }
    
    for (int i = leaves.size()-1; i > -1; i--) {
      Leaf leaf = leaves.get(i);
      leaf.move();
      leaf.display();
      leaf.destroyIfOutBounds();
    } 
  }

  void mousePress(PVector source) {
    float branchDistThreshold = 300*300;
    
    for (Branch branch : branches) {
      float distance = distSquared(mouseX, mouseY, branch.end.x, branch.end.y);
      if (distance > branchDistThreshold) {
        continue;
      }
      
      PVector explosion = new PVector(branch.end.x, branch.end.y);
      explosion.sub(source);
      explosion.normalize();
      float mult = map(distance, 0, branchDistThreshold, 10.0, 1.0); 
      explosion.mult(mult);
      branch.applyForce(explosion);
    }
    
    float leafDistThreshold = 50*50;
    
    for (Leaf leaf : leaves) {
      float distance = distSquared(mouseX, mouseY, leaf.pos.x, leaf.pos.y);
      if (distance > leafDistThreshold) {
        continue;
      }
      
      PVector explosion = new PVector(leaf.pos.x, leaf.pos.y);
      explosion.sub(source);
      explosion.normalize();
      float mult = map(distance, 0, leafDistThreshold, 2.0, 0.1);
      mult *= random(0.8, 1.2); // variation
      explosion.mult(mult);
      leaf.applyForce(explosion);
      
      leaf.dynamic = true;
    }
  }

 void subDivide(Branch branch) {
  ArrayList newBranches = new ArrayList();
  
  int newBranchCount = (int)random(1, 4);
  
  float minLength = 0.7;
  float maxLength = 0.85;
  
  switch(newBranchCount) {
    case 2:
      newBranches.add(branch.newBranch(random(-45.0, -10.0), random(minLength, maxLength)));
      newBranches.add(branch.newBranch(random(10.0, 45.0), random(minLength, maxLength)));
      break;
    case 3:
      newBranches.add(branch.newBranch(random(-45.0, -15.0), random(minLength, maxLength)));
      newBranches.add(branch.newBranch(random(-10.0, 10.0), random(minLength, maxLength)));
      newBranches.add(branch.newBranch(random(15.0, 45.0), random(minLength, maxLength)));
      break;
    default:
      newBranches.add(branch.newBranch(random(-45.0, 45.0), random(minLength, maxLength)));
      break;
  }
  
  for (Branch newBranch : newBranches) {
    this.branches.add(newBranch);

    if (newBranch.level < this.maxLevel) {
      subDivide(newBranch);
    } else {
      // generate random leaves position on last branch
      float offset = 5.0;
      for (int i = 0; i < 5; i++) {
        this.leaves.add(new Leaf(this,newBranch.end.x+random(-offset, offset), 
        newBranch.end.y+random(-offset, offset), newBranch));
      }
    }
  }
}
}

class Leaf {
  PVector pos;
  PVector velocity = new PVector(0,0);
  PVector acc = new PVector(0,0);
  float dia;
  float a;
  float r;
  float g;
  PVector offset;
  boolean dynamic = false;
  Branch parent;
  Tree tree;
  Leaf(Tree tree, float x, float y, Branch parent) {
    this.pos = new PVector(x,y);
    this.dia = random(2,11);
    this.a = random(50,150);
    this.parent = parent;
    this.offset = new PVector(parent.restPos.x-this.pos.x, parent.restPos.y-this.pos.y);
     this.tree = tree;
    if (tree.leaves.size() % 5 == 0) {
      this.r = 232;
      this.g = 250;
    } else {
      this.r = 227;
      this.g = random(230,255);
    }
  }
  
  void display() {
    pushMatrix();
    noStroke();
    fill(this.r, g, 250, this.a);
    ellipse(this.pos.x,this.pos.y,this.dia,this.dia);
    popMatrix();
  }
  
  void bounds() {
    if (!this.dynamic) { return; }
  }
  
  void applyForce(PVector force) {
    this.acc.add(force);
  }
  
  void move() {
    if (this.dynamic) {
      // Sim leaf
      
      PVector gravity = new PVector(0, 0.025);
      this.applyForce(gravity);
      
      this.velocity.add(this.acc);
      this.pos.add(this.velocity);
      this.acc.mult(0);
      
      this.bounds();
    } else {
      // follow branch
      this.pos.x = this.parent.end.x+this.offset.x;
      this.pos.y = this.parent.end.y+this.offset.y;
    }
  } 
  
  void destroyIfOutBounds() {
    if (this.dynamic) {
      if (this.pos.x < 0 || this.pos.x > width || this.pos.y < 0 || this.pos.y > height) {
        tree.leaves.remove(this);
      }
    }
  }
}


class Branch {
  PVector start;
  PVector end;
  PVector vel = new PVector(0, 0);
  PVector acc = new PVector(0, 0);
  int level;
  Branch parent = null;
  PVector restPos;
  float restLength;
  Tree tree;

  Branch(Tree tree, float x1, float y1, float x2, float y2, int level, Branch parent) {
    this.start = new PVector(x1, y1);
    this.end = new PVector(x2, y2);
    this.level = level;
    this.restLength = dist(x1, y1, x2, y2);
    this.restPos = new PVector(x2, y2);
    this.parent = parent;
    this.tree = tree;
  }

  void display() {
    pushMatrix();
    stroke(159, 200, 195+this.level*5);
    strokeWeight(tree.maxLevel-this.level+1);
    
    if (this.parent != null) {
      line(this.parent.end.x, this.parent.end.y, this.end.x, this.end.y);
    } else {
      line(this.start.x, this.start.y, this.end.x, this.end.y);
    }
    popMatrix();
  }

  Branch newBranch(float angle, float mult) {
    // calculate new branch's direction and length
    PVector direction = new PVector(this.end.x, this.end.y);
    direction.sub(this.start);
    float branchLength = direction.mag();

    float worldAngle = degrees(atan2(direction.x, direction.y))+angle;
    direction.x = sin(radians(worldAngle));
    direction.y = cos(radians(worldAngle));
    direction.normalize();
    direction.mult(branchLength*mult);
    
    PVector newEnd = new PVector(this.end.x, this.end.y);
    newEnd.add(direction);

    return new Branch(tree, this.end.x, this.end.y, newEnd.x, newEnd.y, this.level+1, this);
  }
  
  // branch bouncing 
  void applyForce(PVector force) {
    PVector forceCopy = force.get();
    
    // smaller branches will be more bouncy
    float divValue = map(this.level, 0, tree.maxLevel, 8.0, 2.0);
    forceCopy.div(divValue);
    
    this.acc.add(forceCopy);
  }
  
  void sim() {
    PVector airDrag = new PVector(this.vel.x, this.vel.y);
    float dragMagnitude = airDrag.mag();
    airDrag.normalize();
    airDrag.mult(-1);
    airDrag.mult(0.025*dragMagnitude*dragMagnitude); // java mode
    this.applyForce(airDrag);
    
    PVector spring = new PVector(this.end.x, this.end.y);
    spring.sub(this.restPos);
    float stretchedLength = dist(this.restPos.x, this.restPos.y, this.end.x, this.end.y);
    spring.normalize();
    float elasticMult = map(this.level, 0, tree.maxLevel, 0.05, 0.1); // java mode
    spring.mult(-elasticMult*stretchedLength);
    this.applyForce(spring);
  }
  
  void move() {
    this.sim();
    
    this.vel.mult(0.95);
    
    // kill velocity below this threshold to reduce jittering
    if (this.vel.mag() < 0.05) {
      this.vel.mult(0);
    }
    
    this.vel.add(this.acc);
    this.end.add(this.vel);
    this.acc.mult(0);    
  }
}

float distSquared(float x1, float y1, float x2, float y2) {
  return (x2-x1)*(x2-x1) + (y2-y1)*(y2-y1);
}
  
class smallStar {
  color c;
  float x;
  float y;
  float a;
  float h;
  float w;
  float centerX;
  float centerY;
  float ang;
  
  smallStar() {
    x = random(0,width);
    y = random(0,height/2);
    w = random(3,6);
    a = random(100,200);
    color[] colors = {color(232,248,255,a),color(235,234,175,a),color(242,242,208,a),
                         color(250,250,240,a),color(255,255,255,a)};
    int index = int(random(colors.length));
    c = colors[index];
    h = w;
    centerX = x + w/2;
    centerY = y + h/2;
    ang = random(0,PI)/random(1,4);
  }
  
  void display() {
    pushMatrix();
    ang = (this.ang + .01) % (2*PI);
    fill(this.c);
    noStroke();
    translate(centerX,centerY);
    rotate(ang);
    rect(-w/2,-h/2,w,h);
    popMatrix();
    //println("x" + this.x + "y" + this.y);
  }
}

class bigStar {
  float x;
  float y;
  float r1;
  float a;
  float flicker;
  float r2;
  color c;
  float ang;
  float angDir;
  
  bigStar() {
    x = random(0, width);
    y = random(0, height/2);
    r1 = random(2,5);
    a = random(40,180);
    flicker = random(400,800); 
    r2 = r1 * 2;
    color[] colors = {color(232,248,255,a),color(201,239,255,a),color(242,242,208,a),
                         color(250,250,240,a),color(255,255,255,a)};
    int index = int(random(colors.length));
    c = colors[index];
    float[] angles = {radians(millis()/170),radians(millis()/150),radians(millis()/-150),
                      radians(millis()/-170)};
    int index2 = int(random(angles.length));
    ang = angles[index2];
    angDir = (random(1)*0.1) - .05;
  }
  
  void display() {
    pushMatrix();
    //colorMode(RGB,255,255,255);
    //float newA = map(shine,-1,1,0,255);
    float newR = c >> 16 & 0xFF; //use bit shifts for faster processing
    float newG = c >> 8 & 0xFF;
    float newB = c & 0xFF;
    //float newAA = (a + newA) % 255;
    //float newC = color(newR, newG, newB, newAA); 
    float shine = sin(millis()/flicker);
    float a = this.a + map(shine,-1,1,40,100);
    //if (a < 0) { a = -a; };
    fill(newR,newG,newB,a);
    //fill(newC);
    noStroke();
    translate(x,y);
    ang = (this.ang + angDir) % (2*PI);
    rotate(ang);
    makeBigStar(0,0,r1,r2,5);
    popMatrix();
    //println("shine " + shine + "newAA " + newAA);
  }
}
    

void setGradient(int x, int y, float w, float h, color c1, color c2, int axis) {
  noFill();
  for (int i = y; i <= y+h; i++) {
    float inter = map(i, y, y+h, 0, 1);
    color c = lerpColor(c1, c2, inter);
    stroke(c);
    line(x, i, x+w, i);
  }
}

boolean raining = false;
//boolean rainToggle = false;

void keyPressed() {
  if (key == 'r') {
    if (raining == false) {
      raining = true;
      //rainNum = 80;
      //rainToggle = true;
    } else {
      raining = false;
    }
  }
}

void mousePressed() {
  PVector source = new PVector(mouseX, mouseY);
  for (Tree tree : trees) {
     tree.mousePress(source); 
  }
}

class firefly {
  PVector position;
  PVector velocity;
  float move;
  //float flicker;
  float a;
  
  firefly() {
    position = new PVector(random(0,width),random(400,650));
    velocity = new PVector(1*random(-1,1),-1*(random(-1,1)));
    move = random(-7,1);
    //flicker = sin(millis()/400.0);
    a = random(0,100); //map(flicker,-1,1,40,100);
  }
  
  void update() {
    position.add(velocity);
    if (position.x > width) {
      position.x = 0;
    }
    if (position.y > height || position.y < 360) {
      velocity.y = velocity.y * -1;
    }
  }
  
  void display() {
    pushMatrix();
    float flicker = sin(millis()/400.0);
    float a = (this.a + map(flicker,-1,1,40,100)) % 255;
    fill(255,255,240,a);
    ellipse(position.x,position.y,gMove+move, gMove+move);
    ellipse(position.x,position.y,(gMove+move)*0.5,(gMove+move)*0.5);
    popMatrix();
  }
}  

float yoff = 0.0;
float yoff2 = 0.0;

float time = 0;

void anotherNoiseWave() {
  float x = 0;
  while (x < width) {
    //stroke(255,255,255,5);
    stroke(0,65,117,120);
    //stroke(11, 114, 158, 12);
    line(x, 520 + 90 * noise(x/100, time), x, height);
    x++;
  }
  time = time + 0.02;
}

void calcWave(float amplitude) {
  // Increment theta (try different values for 'angular velocity' here
  theta += 0.02;

  // For every x value, calculate a y value with sine function
  float x = theta;
  for (int i = 0; i < yvalues.length; i++) {
    yvalues[i] = sin(x)*amplitude;
    x+=dx;
  }
}

void renderWave() {
  noStroke();
  colorMode(RGB);
  float ellipsePulse = sin(millis()/600.0);
  float ellipseColor = map(ellipsePulse, -1, 1, 150, 245);
  fill((int)ellipseColor, 220, 250, ellipseColor-60);
  // A simple way to draw the wave with an ellipse at each location
  for (int x = 0; x < yvalues.length; x++) {
    ellipse(x*1.3*xspacing, height/1.2+yvalues[x], 6, 6);
  }
  for (int x = 0; x < yvalues.length; x++) {
    ellipse(x*1.7*xspacing, height/1.3+yvalues[x], 5, 5);
  }
  for (int x = 0; x < yvalues.length; x++) {
    ellipse(x*1.4*xspacing, height/1.15+yvalues[x], 7, 7);
  }
  for (int x = 0; x < yvalues.length; x++) {
    ellipse(x*1.5*xspacing, height/1.27+yvalues[x], 6, 6);
  }
}

class Rain {
  float x = random(0, width);
  float y = random(-1000, 0);
  float size = random(3, 7);
  float speed = random(20, 40);
  void update() {
    y += speed;
    fill(255, 255, 255, 180);
    //fill(185, 197, 209, random(20, 100));
    ellipse(x, y-5, size-3, size*2-3);
    fill(185, 197, 209, random(20, 100));
    //fill(255, 255, 255, 180);
    ellipse(x, y, size, size*2);

    if (y > height) {
      if (raining) {
        x = random(0, width);
        y = random(-10, 0);
      } 
      if (!raining) { // temp fix for stopping rain: let current rainfall not respawn at top
        //drops = new Rain[0];
        y = height;
        //speed = 0;
      }
    }
  }
}

void makeBigStar(float x, float y, float radius1, float radius2, int npoints) {
  float angle = TWO_PI / npoints;
  float halfAngle = angle/2.0;
  beginShape();
  for (float a = 0; a < TWO_PI; a += angle) {
    float sx = x + cos(a) * radius2;
    float sy = y + sin(a) * radius2;
    vertex(sx, sy);
    sx = x + cos(a+halfAngle) * radius1;
    sy = y + sin(a+halfAngle) * radius1;
    vertex(sx, sy);
  }
  endShape(CLOSE);
}

void drawMountains() {
  strokeWeight(15);
  strokeJoin(ROUND);
  for (int i = 0; i <= 10; i++ ) {
    float y = i*30;
    fill(map(i, 0, 5, 200, 35), map(i, 0, 5, 250, 100), map(i, 0, 5, 255, 140));
    stroke(map(i, 0, 5, 200, 35), map(i, 0, 5, 250, 110), map(i, 0, 5, 255, 150));
    beginShape();
    vertex(0, 400+y);
    for (int q = 0; q <= width; q+=10) {
      float y2 = 400+y-abs(sin(radians(q)+i))*cos(radians(i+q/2))*map(i, 0, 5, 100, 20);
      vertex(q, y2);
    }
    vertex(width, height);
    vertex(0, height);
    endShape(CLOSE);
  }
}