Some (Early) Interactive Kinectics/Audio/Vision
Marcel Duchamp, Bicycle Wheel (1913)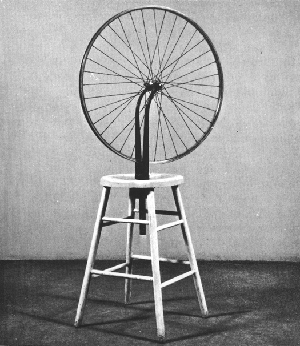 Bridget Riley, S Current (1964)

Yaacov Agam, Vibralite (1961)

Yaacov Agam, polymorphic picture (early 1970s)

Servulo Esmeraldo (early 1960s)

Nam June Paik, Random Access (1963)

Nam June Paik, TV Magnet (1965)

Steina & Woody Vasulka, various video experiments (1960s-1970s)

Jeff Lieberman & Dan Paluszka, Absolut Quartet (2008)

---
Some Full-Body Interactions
Erkki Kurenniemi, DIMI-O (1971)

Myron Krueger, Videoplace (~1974-1989)

David Rokeby, Very Nervous System (~1986-1990)

Rafael Lozano-Hemmer, Surface Tension (1992)

Jim Campbell, Hallucination (1993)
http://www.jimcampbell.tv/portfolio/installations/interactive_hallucination/
Rafael Lozano-Hemmer, The Trace (1995)

Scott Snibbe, Boundary Functions (1998)

Daniel Rozin, Wooden Mirror (1999)

Daniel Rozin, Peg Mirror and Weave Mirror (2007)

Camille Utterback & Romy Achituv, Text Rain (1999)

Rafael Lozano-Hemmer, Underscan (2005)

Philip Worthington, Shadow Monsters (2005)

Scott Snibbe, Make Like a Tree (2005)

And some more projects by Scott
Christine Sugrue, Delicate Boundaries (2007)

Christine Sugrue, Base8 (2011)

YesYesNo, Night Lights (2010)

Chris Milk, The Treachery of Sanctuary (2012)

---
Some Interactions with Artificial Life
Christa Sommerer & Laurent Mignonneau, A-Volve (1994-97)

Ulrike Gabriel, Terrain01 (1993)
http://www.medienkunstnetz.de/works/terrain/

Ken Rinaldo, Autopoiesis (2000)

Karolina Sobecka & James George, Sniff (2010)

---
Some Interactions Involving Eyes & Faces
Art+Com, Zerseher (1992)

Christian Moeller, Cheese (2003)
http://www.christian-moeller.com/display.php?project_id=36
Zach Lieberman, Olga Bell et al, Chase No Face (2011)

---
Navigating & Augmenting Space, Interactively
Jeffrey Shaw, Legible City (1988)

Kazuhiko Hachiya, Inter-discommunication Machine (1993)

Takehito Etani, The Third Eye (2002)

Christian Moeller, Mojo (2007)
http://www.christian-moeller.com/display.php?project_id=62&play=true
Julius von Bismarck, Image Fulgurator (2007)

Julian Oliver, Artvertiser (2008)

---
Some Dance and Technology
Klaus Obermaier, Apparition (2004)

Chunky Move, Mortal Engine (2008)

Wrecking Crew Orchestra (2012)

---
Other
Scott Snibbe, Blow Up (2005)

Zach Lieberman & Marco Tempest, AR Magic 1.0 (2009)

Hand from Above – Chris O'Shea, 2008 (video)
Unsuspecting pedestrians will be tickled, stretched, flicked or removed entirely in real-time by a giant deity.
Puppet Parade, Rise and Fall, Night Bright – Theo Watson and Emily Gobeille
le Monde des Montaignes – Camille Scherrer, 2008
Body Dysmorphic Disorder – Robert Hodgin, 2011 (video)
All that's left is to add back in the original color values and voila, instant fatsuit and extremely creepy late-night distraction. In order to push the creepy vibe, I am only drawing the frags that are within a certain distance to the camera. If they are background frags, I discard them entirely. This ends up being extra useful because the depth image from the Kinect has a bit of parallax shadowing on the side where the depth data goes to black. Eliminating the drawing of these unwanted artifacts will clean up the final image quite a bit.
Text Rain (1999, Camille Utterback & Romy Achituv)
---
Laser Tag – Theo Watson, Evan Roth, Grafitti Research Lab, 2006 (video)
During a cold week in February, armed with several high power lasers, two hardcore projectors and a camper van, the Graffiti Research Lab and I went about turning the back of a large office building in Rotterdam into a massive laser-tagable space. Writers from all over Europe came down to have a go at writing their tags 140 feet high. Kids, old people and random members of the public all enjoyed being able to write messages on a building which could be seen across the whole city.
Nuage Vert – Helen Evans & Heiko Hansen, 2008 (video)